Crystal Xu
---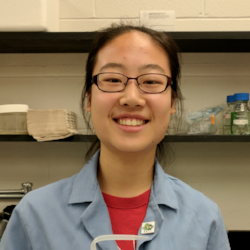 NAME: Crystal Xu
CITY, STATE: Lincoln, NE
TOPIC: Reducing Methane Emissions from Livestock
Climate change is an issue that is affecting our whole world, and the methane emissions from cattle are part of the cause. One possible solution to reducing methane emissions is synthetic biology, specifically genetically engineering e.coli. Synthetic biology is a new field with much potential for useful applications, and this is exactly what Crystal Xu will be sharing during her talk.
Crystal has always loved science and after joining UNL's iGEM (international genetically engineered machine) team, she was introduced to synthetic biology. She loves learning and decided to dedicate her time to helping solve the problem of reducing methane emissions, a problem that affects many Nebraskans.
Outside of learning, Crystal enjoys making origami, hanging out with her hamster, Cashew, and learning from Black Jack, a surgeon from an anime, who inspired her to become a doctor with as much skill and care for patients as him.
Join Crystal and many other fascinating speakers on Saturday, August 11, at TEDxYouth, hosted at Lincoln High School. Buy your tickets today!