Emma Harner
---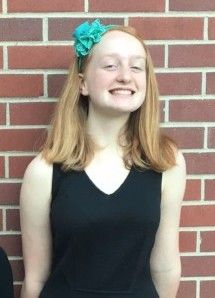 NAME: Emma Harner
CITY, STATE: Lincoln, Nebraska
TOPIC: Pockets and Sexism
Women's clothing has small pockets, and Emma Harner thinks it's ridiculous. Over time, she has noticed how clothing companies will make virtually the same pair of pants for boys and girls, but the girls' style has three less inches of pocket. It is infuriating!
Living with small pockets has been an unnecessary annoyance that every woman in Emma's life has had to deal with, but no one talks about it. During her talk, Emma intends to talk about the sexism of pockets.
Outside of school, Emma loves to watch The West Wing on Netflix and help take care of her two family chickens, Izzy and Alex.
Join Emma and many other fascinating speakers on Saturday, August 11, at TEDxYouth, hosted at Lincoln High School. Buy your tickets today!