Isabel Bousson
---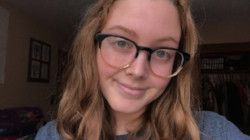 NAME: Isabel Bousson
CITY, STATE: Lincoln, Nebraska
TOPIC: Democracy Through Advocacy
"As a young person, it seems incredibly difficult to be involved in our democracy when so much of it seems like change comes through voting. Over the past year, I've learned quite the opposite. While voting definitely helps promote our values of democracy, incredible change can be seen through advocacy in our community and in turn helps our democratic process out as well." – Isabel Bousson
Isabel has always been passionate about being involved in my community. She loves seeing young people create postive change, no matter how small. A couple of months ago, Isabel organized the March For Our Lives in Lincoln, NE, and in turn she met various politicians and community leaders from the community. In her talk, Isabel will discuss how young people can make a difference in the community, even if they are inelligible to vote.
Many people have influenced Isabel in her life, but her best friend Katie stands out above the rest. They have known each other for 5 years now, and she has never stopped encouraging Isabel to keep her fire and do what she loves. 
Join Isabel and many other fascinating speakers on Saturday, August 11, at TEDxYouth, hosted at Lincoln High School. Buy your tickets today!